"The best medicine in the world is a mother's kiss."
Moke, a newborn gorilla learned this in his earliest life experience.
Moke's mother, Calaya, in an endangered western lowland gorilla from the Smithsonian National Zoo and despite not being experienced with children, her maternal instinct kicked in, and she handled it like a natural.
You can see in the footage how much love Calaya has for her newborn, she expressed it clearly by giving him kisses, writes Joe Kahlo on kingdomstv.com
Moke is the first western lowland gorilla born at the zoo in nine years. Baraka, his father who is a 450-pound gorilla watched along with his gorilla friends and let out what is described as a 'pleasure rumble' when the delivery was complete.
The staff at the zoo are 'cautiously optimistic' of young Moke's future. They will allow Calaya to nurse him naturally and feel confident that her mothering skills will work out well.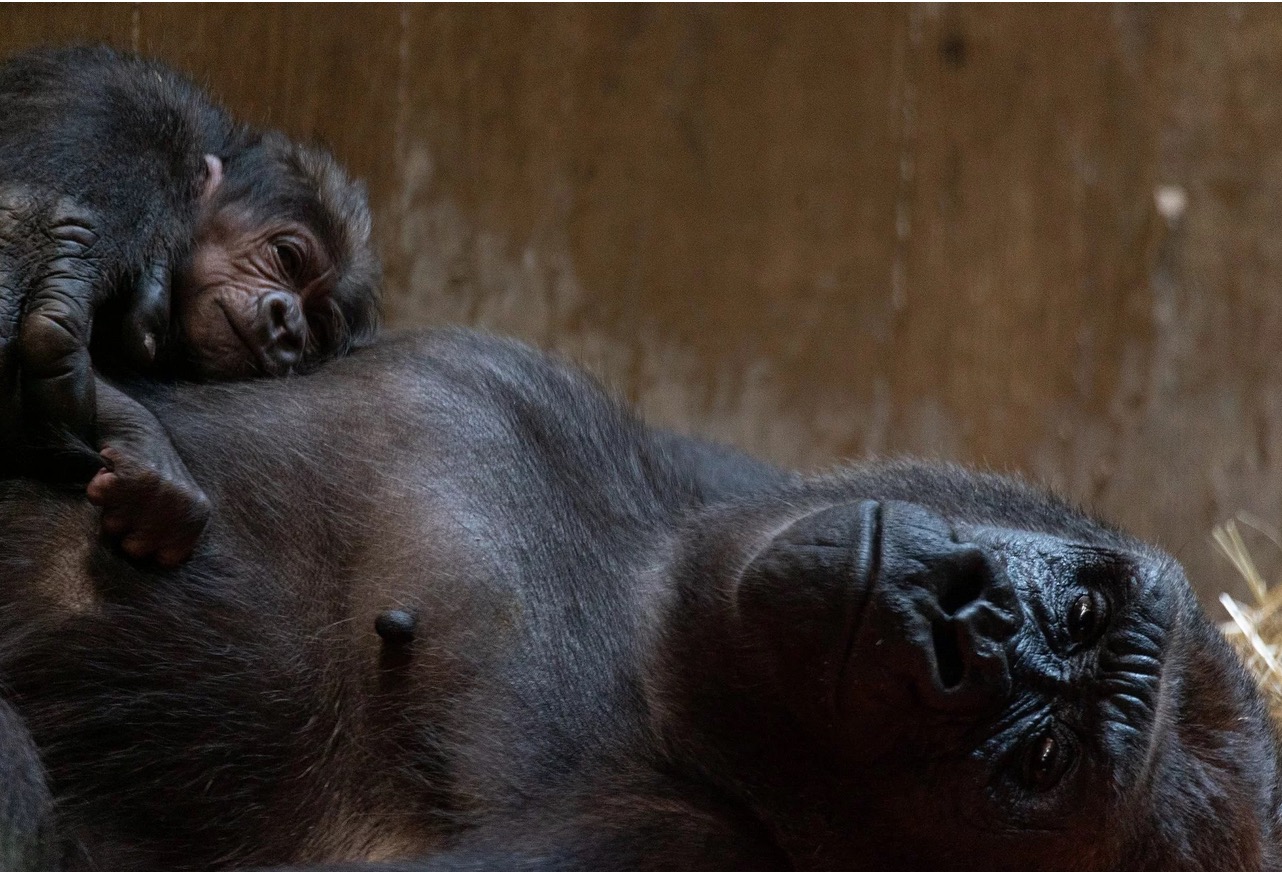 The staff helped her prepare by showing her photos of other mother gorillas, by giving her a baby gorilla toy, showing her how to nurse the baby when it comes and other relevant parental behaviors.
"As soon as a gorilla is born, the mother's instincts kick in and she will begin to groom the baby," Jack Hannam Director Emeritus of the Columbus Zoo told PEOPLE. "It can look a lot like human kissing! But, it looks like she is actually using her lips to groom the baby and likely did it over the baby's whole body."
"Gorillas can be amazing, attentive parents and watching these babies grow has been a highlight of my career."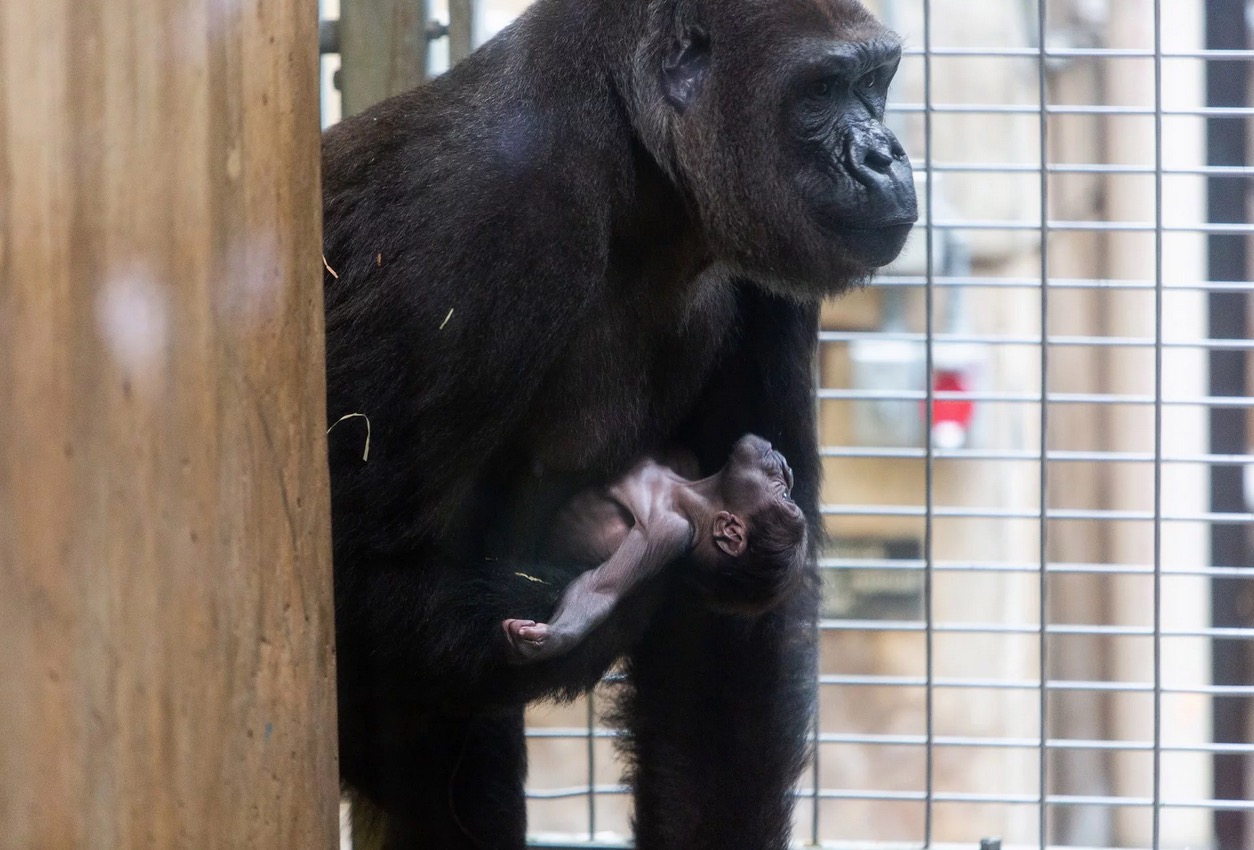 The Smithsonian National Zoo had a similar response:
"The birth of this western lowland gorilla is very special and significant, not only to our Zoo family but also to this critically endangered species as a whole. The primate team's goal was to set Calaya up for success as best we could, given that she is a first-time mother. Doing so required great patience and dedication on the part of my team, and I am very proud of them and Calaya."
"We all saw everything. We saw the birth. We saw the five hours of labor … We were all kind of shaking a little with happiness. It was an amazing moment to share with the team. We were all really close to tears."
Just have a look at their first day together:
𝙾𝚛𝚙𝚑𝚊𝚗𝚎𝚍 𝙴𝚕𝚎𝚙𝚑𝚊𝚗𝚝 𝚋𝚞𝚒𝚕𝚍𝚜 𝚊 𝚂𝚙𝚎𝚌𝚒𝚊𝚕 𝙱𝚘𝚗𝚍 𝚆𝚒𝚝𝚑 𝙽𝚊𝚞𝚐𝚑𝚝𝚢 𝙻𝚊𝚋𝚛𝚊𝚍𝚘𝚛
Elephants are very social very nature. They love to remain in groups. They are very lovable and adorable creatures. Their nature remains the same even when they grew up into giants.
Once there was an article about an adult elephant that keeps on asking its caretaker to sing to her a lullaby every day. They are so friendly that they can even build a friendly relationship with other creatures.
Here is a story of the special bond that a 32-year-old African elephant and a 3-year-old Labrador had. Though they might look odd to us they are very happy when they are together. They proved that Friendship has no barrier.
The name of the elephant is Bubbles and the name of the dog is Bella and they are currently in Myrtle Beach Safari which is a part of a wildlife conservation effort called The Rare Species Fund, Southern California. They love playing the game of catch in the water.
For Bella, the most comfortable and safest seat in the world is in the back of his friend. They had plenty of fun, laughter together and this made their life more meaningful and colorful.
The bubble is an orphan elephant. She came from Africa after her parents were ki lled for their tusks. At first, she struggles to make friends but when she met Bella, she found a true friend.
The bubble is very happy in the company of Bella. Her weight is around 4 tons and her height is over 9 ft. She loves playing catch and romps with Bella.
Their unusual friendship went viral on the internet and it is liked by everyone. Their friendship is pure and beautiful